Iron Mill Pond has always been known for excellent fishing. Largemouth bass, bluegills, perch, black crappie, dogfish, carp, and northern pike inhabit the lake. Several maps are included in this book to mark well-known spots. Michigan fishing regulations must be followed and a fishing license is required. The Michigan Department of Natural Resources offers fishing licenses on-line. Catch and Release is highly recommended; either take the fish for a mount, eat it, or throw it back. In the event that a large fish is caught and you would like to mount it, let us know. We can contact a highly talented local taxidermist.
Consider catching enough panfish for a shore lunch. Panfish are bluegills, perch, and crappies. Nothing beats the feeling of catching just enough fish to feed your family. It may take 20 minutes or several days to get enough fish for a shore lunch.
Please bring your own fishing equipment. Limited fishing equipment for kids is available for sale (you take it home when you leave). Additional equipment and bait can be purchased at Knutson's Sporting Goods in Brooklyn, which is 20 minutes away.
Several fishing books are available in the AshKay Island library. These books may be consulted for tips on catching the species of choice, or let us know that you are interested in fishing and we will point you in the right direction.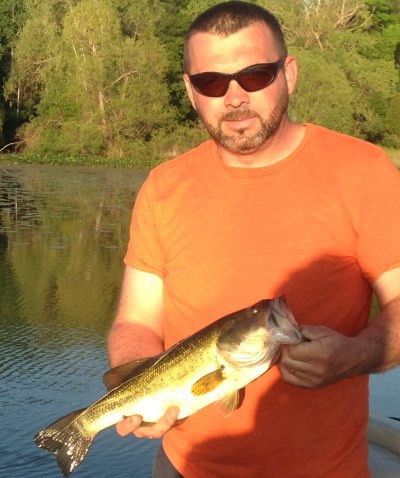 FISHING TIPS
There are largemouth bass all over the lake. They bite on various lures including spinnerbaits, plastic worms, and body baits like rapalas. The northern part of the lake warms first in the spring. Topwater bite is excellent in the summer.
Bluegill spawn in the early summer and once beds are found bite on worms, crickets, or bug baits. Crappies bite on minnows and soft plastic. Perch are rare but will bite on minnows. Northern pike will hit spinnerbaits, large minnows, and body baits.
Kids like to catch fish often, regardless of size. Enjoy fishing directly off the dock on AshKay Island. We have added cover for baitfish nearby to attract larger game fish. Try live bait for many species of fish. Remember to practice catch and release if you do not plan on eating or mounting your fish. This will keep numbers of fish strong for future residents.
Please respect dock owners by not hooking boats or docks when fishing close to them. Numerous species of fish are caught 20 yards east of the island on a weed bed between the island and the mainland to the east.
Book Your Michigan Family Vacation Today!
You no longer have to leave Washtenaw County to enjoy a luscious, ecologically green, private island getaway. Call (734) 732-2138 today to book your getaway!